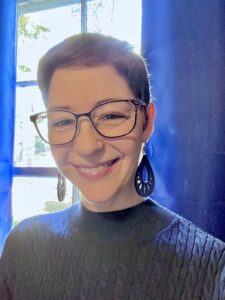 Heidi M. Wood, L.C.S.W.
As a licensed clinical social worker, I help adults (ages 21+) with a variety of clinical concerns including anxiety, obsessive compulsive disorder (OCD), and depression using Cognitive Behavioral Therapy (CBT)and mindfulness training. I employ well-tested, evidence-based treatments such as the Unified Protocol for Transdiagnostic Treatment of Emotional Disorders and Exposure and Response Prevention for OCD. 
I am also certified in two evidence-based parent training programs, Supportive Parenting for Anxious Childhood Emotions (SPACE) and Positive Discipline. These programs are focused on working directly with parents and have been shown to be as effective as child-focused treatment.
In addition to these core areas of focus, I am a seasoned therapist with the skills and experience needed to guide adults through grief, spiritual exploration, general parenting, family relationships, adjusting to life's stressors, and exploring racial bias.
It requires bravery to reach out for help, and I acknowledge that. I join with my clients to shine light in dark corners so clients can see their paths forward more clearly. 
Some people experience frequent, strong emotions and have negative reactions to those emotions. They might judge themselves for feeling anxious or worry that others will judge them. They may feel like imposters at work or in school. They may feel shame, worthlessness, and hopelessness. They may fear that if they allow themselves to be sad, they will fall into a black hole of depression, perhaps because they have been depressed before. People with OCD struggle with patterns of intrusive thoughts or images (obsessions) accompanied by anxiety or uncertainty. They experience intense urges to relieve the anxiety through avoidance or engaging in mental rituals and specific behaviors (compulsions). Others may have difficulties with distinct phobias, social phobia, or health anxiety. Such suffering can lead people to avoid situations that provoke uncomfortable emotions, and this avoidance can negatively impact life socially, at work, and at home.
I partner with my clients to determine what is troubling them, and we decide together what treatment approach will be best. Cognitive Behavioral Therapy (CBT) can help clients learn skills to explore their thoughts, feelings, and behaviors. Sometimes CBT is conducted in a less structured manner. Sometimes it is conducted in a structured format with workbooks, such as in Unified Protocol, a 12-15 week CBT treatment approach. Unified Protocol helps people with anxiety and depression learn to tolerate upsetting feelings and change unhealthy cycles of thinking and acting. For people with OCD, a specific CBT protocol called Exposure and Response Prevention can help. 
I bring empathy, education, and experience to my work. I also bring my belief in self-determination to help clients understand their inherent worth and the power they have to heal themselves. 
MY EXPERIENCE
I have over ten years of experience working with children and adults in various settings including outpatient therapy (in person and via telehealth), inpatient therapy, intensive in-home therapy, preschools and daycares, and crisis centers. I am fully licensed to provide therapy to patients in the state of Georgia.
MY AVAILABILITY 
Heidi sees patients between the hours of 9am-2pm via telehealth. At this time, she does not see patients in the office.
ACADEMIC TRAINING:
M.S.W., Clinical Social Work
Smith College School for Social Work
B.A., Education
Landegg Academy, Switzerland
ADVANCED CLINICAL TRAINING
SPACE method: Supportive Parenting for Anxious Childhood Emotions
International Obsessive Compulsive Disorders Foundation Behavioral Treatments Training Institute
Exposure and Response Prevention Therapy (ERP) for OCD 
Unified Protocol for Transdiagnostic Treatment of Emotional Disorders
Cognitive Behavioral Therapy and Mindfulness
Trauma Focused Cognitive Behavioral Therapy
Online Therapy
Grief and Grieving
21st Century Parenting
Positive Discipline, Certified Educator
Facilitating Attuned Interactions (FAN) Model for Children Birth through Five
Narrative Family Therapy
Depressive Disorders in African Americans
ANTI-RACISM COMMITMENT
Since 1995, the School for Social Work at Smith College has been committed to becoming an anti-racism institution and actively works towards this goal through their curriculum and community. My professional education is rooted in this commitment and since childhood, my personal development has been tied to the concept of equality. But despite my dedication to social justice, it wasn't until I became a parent and moved from Arizona to Georgia that theory became reality. And just like that, all of my wonderful ideals were put to the test. 
I was bombarded by my own conditioning, by the decades of brainwashing – nurtured and supported in a bubble of whiteness – that had methodically seeped into my brain. I made a choice to re-examine everything: my thoughts, feelings and behaviors, my beliefs about what defined a "safe neighborhood" and a "good school," what it meant to parent a white child in a racist society, what it really meant to be an ally, how obliviously I had participated in systemic racism, and how my well-being had been affected by such a long separation from people of color. My daughter attends our neighborhood public school, and she's one of the handful of white kids in the school. I'm going to have to keep learning, through more books and more workshops and more dialogue and more relationships and more action, as I attempt to raise a white girl to be a white woman who does not wield power through fear. 
As a practicing therapist, I've come to realize my passions for mental health, healthy families, and anti-racism work complement each other, so I decided to create Brave Little Steps. At Brave Little Steps, I offer training and consultation to help white people develop new capacities, thoughts, and behaviors to use as tools for disrupting injustice and building authentic cross-racial relationships and equitable systems.
Heidi M. Wood, L.C.S.W. provides services to Atlanta CBT on a contract basis.