Dr. M. Kathleen Holmes, Ph.D.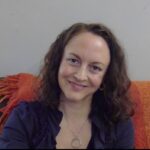 I am a licensed clinical psychologist offering culturally sensitive, evidence-informed psychotherapy via telehealth for individuals (ages 18+).  My primary areas of specialization are in the treatment of trauma-related disorders, obsessive-compulsive disorder, and difficulties with emotion regulation. I also see clients with anxiety disorders (e.g., social anxiety disorder, generalized anxiety disorder), depression, and attention deficit disorder (ADD/ADHD), and I often help clients cope with life transitions, relationship/interpersonal difficulties, and other stressors.  Treatment is always tailored to each client's unique needs, goals, and circumstances.
I have received specialized training in several evidence-based approaches including prolonged exposure therapy, cognitive processing therapy, exposure and ritual prevention, acceptance and commitment therapy, and dialectical behavior therapy. 
I have extensive experience working with veterans and active-duty service members and their loved ones, as well as with first responders.  I have also worked with many clients who identify as LGBTQ+.
MY AVAILABILITY
I see clients Monday through Friday between the hours of 8am and 8pm via telehealth. I also have some weekend availability. I do not offer in-person services. 
I am fully licensed as a psychologist in VA and NC. As a PsyPact member psychologist, I am permitted to provide therapy via telehealth to patients in the following states:  AL, AZ, AR, CO, Commonwealth of the Northern Mariana Islands, CT, DE, District of Columbia, GA, ID, IL, IN, KS, KY, ME, MD, MI, MN, MO, NE, NV, NH, NJ, NC, OH, OK, PA, TN, TX, UT, VA, WA, WV, WI, & WY. I am based in NC. 
MY EXPERIENCE
My graduate training at St. John's University in diverse Queens, NY helped me to develop a culturally sensitive approach to psychotherapy, which I continue to prioritize in my work.  During my training, I gained experience practicing in a variety of clinical settings, including a community mental health clinic, a college counseling center, a residential substance abuse treatment program, an acute inpatient psychiatric unit, and a state psychiatric hospital.  More recently, I spent seven years working for the Department of Veterans Affairs in various clinics.
Prior to focusing on clinical practice, I trained and worked in several research settings (e.g., the National Institute of Mental Health and various academic departments).  My strong background in clinical research helps me stay informed of the latest developments in the field, and I strive to apply these developments in my therapy practice.
PROFESSIONAL ASSOCIATIONS & PROFESSIONAL SERVICE:
Member, American Psychological Association
Member, National Register of Health Service Psychologists
Member, International OCD Foundation
Member, Association for Contextual Behavioral Science
ACADEMIC TRAINING
Postdoctoral Fellowship in Clinical Psychology, PTSD Track
VA Boston Healthcare System, Boston, MA
Predoctoral Internship in Clinical Psychology, General Track
Central Virginia VA Healthcare System, Richmond, VA
Ph.D., Clinical Psychology
St. John's University, Jamaica, NY
M.A., Psychology
University of Pennsylvania, Philadelphia, PA
B.S., Psychology
James Madison University, Harrisonburg, VA
PEER-REVIEWED PUBLICATIONS
Johnson, S.L., Tharp, J., Holmes, M.K. (2015). Understanding Creativity in Bipolar I Disorder. Psychology of Aesthetics, Creativity, and the Arts, 9(3), 319-327.
Ameli R., Luckenbaugh D.A., Gould N.F., Holmes M.K., Lally N., Ballard E.D., & Zarate C.A. Jr. (2014). SHAPS-C: the Snaith-Hamilton pleasure scale modified for clinician administration. PeerJ, 2, e429.
Johnson, S.L., Edge, M.D., Holmes, M.K., & Carver, C.S. (2012). The Behavioral Activation System and Mania. Annual Review of Clinical Psychology, 8, 243-267.
Glahn, D.C., Robinson, J.L., Tordesillas-Gutierrez, D., Monkul, E.S., Holmes, M.K., Fox, P.T., Green, M.J., & Bearden, C.E. (2010). Fronto-Limbic Dysregulation in Asymptomatic Bipolar I Patients: A Paired Associate Functional MRI Study. Human Brain Mapping, January 2010.
Holmes, M.K., Bearden, C.E., Barguil, M., Fonseca, M., Monkul, E.S., Nery, F.G., Soares, J.C., Mintz, J., & Glahn, D.C. (2009). Conceptualizing impulsivity and risk taking in bipolar disorder: Importance of history of alcohol abuse. Bipolar Disorders, 11, 33-40.
Holmes, M.K., Erickson, K., Luckenbaugh, D.A., Drevets, W.C., Bain, E.E., Cannon, D.M., Snow, J., Sahakian, B.J., Manji, H.K., & Zarate, Jr., C.A. (2008). A comparison of cognitive functioning in medicated and unmedicated subjects with bipolar depression. Bipolar Disorders, 10, 806-815.
Gould, N.F., Holmes, M.K., Luckenbaugh, D.A., Fantie, B.D., Pine, D.S., Gould, T.D., Burgess, N., Manji, H.K., & Zarate, Jr., C.A. (2007). Performance on a virtual reality spatial memory navigation task in depressed patients. American Journal of Psychiatry, 164, 516-9.
Dr. M. Kathleen Holmes, Ph.D. provides services to Atlanta CBT on a contract basis.